For two years, The Golden Pineapple Fragrance Awards have been one of the most talked about and most influential fragrance awards in the world. We've set the standard for fair, unbiased awards that would see an equal mix of the biggest designers and rising stars in the industry earning accolades. Not only that, but fragrances that win awards at The Golden Pineapple Fragrance Awards tend to go on to win awards elsewhere. Every year, social media lights up as we announce our winners, recognizing The Golden Pineapple Fragrance Awards as the trendsetters and historymakers of fragrance awards. This year we're taking all that excitement to the next level! On June 10th, our historic awards will become a live in-person experience in Orange County, California as part of The Golden Pineapple Fragrance Festival. We invite you to join us to be part of this historic occasion. Dress to impress and wear your fragrance best as we gather to celebrate the best of the best fragrances!
SPECIAL THANKS TO OUR GOLDEN SPONSORS
The Golden Pineapple Fragrance Award Nominees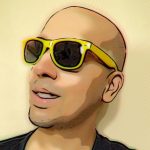 Having dedicated over a decade of his life to the psychology of scent, "the voice of fragrance" joined Pinappos with the express purpose of sharing his passion for perfume from a unique perspective. During this psychological journey, he has quietly built a reputation as one of the world's foremost fragrance connoisseurs.