All products and services on Pinappos are independently tested by our writers. Pinappos may earn a commission through links on our site.
Team Pinappos is always searching for amazing new products. This article is part of a series where we share with you the discoveries that excite us, the products we cannot wait to talk about. These are our favorite finds.
One would think black eyeliner is the simplest to choose and use, well, not really. Being of Pakistani decent, black eyeliner also called "Kajal" is something girls start with when growing up. It must have the perfect rich black consistency and easily be applied in the water line. After several liners which I have tried on the market, Gucci's Long lasting Khol liner "Noir" has to be a favorite! It is a deep black which does not smudge over a day long wear. The application is easy, with a twist you get a soft black tip of deep black liner which glides on the water line as well as the upper lid like butter! One of the more creamier liners I've ever tried. It does not have to be sharpened which sometimes can mean losing some product to the shavings stuck to the sharpener — one of my biggest pet peeves in the morning when getting ready for work.
I was also fortunate to try the "Amethyste", a satin purple shade from Gucci's Khol line. This pop of color on my waterline has gotten me several compliments! The vibrancy and longevity of this product cannot be beat! Intentional smudging for those messy bun days is also attainable without fuss. Because of its creamy texture, the product is able to be blended and smudged at the edges. The malleability is another very important characteristic unique to the Gucci Kohl liners. A must have in every girls' makeup bag!
Experience Gucci's Stylo Contour Des Yeux Khol Eyeliner
© PRODUCT PHOTOS COURTESY OF RETAILER SITES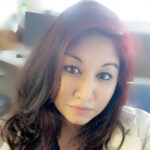 Mad about plants, mad about makeup, mad about health, and mad about living her best life. You can't stop the madness, but you can definitely embrace it.