All products and services on Pinappos are independently tested by our writers. Pinappos may earn a commission through links on our site.
When I was a kid, oily skin did not work in my favor. Breakouts were a regular part of my life and none of the so-called miracle drugs on the market worked in my favor. They were all just an expensive way to get no results. For the record, any price that gets no results is expensive.
But that's neither here nor there, because the universe works in mysterious ways and what was once a source of stress for me as a kid has worked wonders for me as an adult. Oily skin means, fragrances of which I love and have built an entire career around last longer on me. Oily skin also means less wrinkles and keeping that youthful look. I often joke that I retired at a young age and what I mean by that is not that I stopped working, but rather one year during my birthday I told myself, "This is it. This is my age from now on." It's a psychological method. A successful method that has me feeling as young as ever and with a little extra help from my oily skin, I look as young as ever too.
So even though I struggled with bad skin as a kid, as an adult I've been blessed. The only thing I've had issues with is pores. The thing about pores is everyone has them. For some pores are naturally small, for others they're naturally large. It's all natural though. And like most natural things, nobody else really notices it. People tend to over emphasize how they think others see their own perceived "imperfections." In reality, most people don't really notice.
I'm at a point in my life that I'm not so concerned how others see me, I want to be the best that I can be by my own standards — for me. My exploration of skincare products is a personal journey, because skincare interests me. Along the way, when I discover products I like, I share them with you. Which is why you've never seen me share a product that minimizes pores. Because historically, while I've tried many products that make that claim, nothing has had results.
That is until I discovered Clarins Pore Control Serum.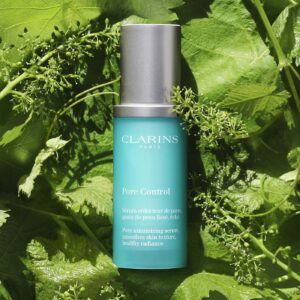 My love for Clarins Double Serum is no secret. Last summer it made the Pinappos 27 Favorite Things list. Then mid-pandemic, after staying in so long and feeling like my skin was looking zombie-ish, Clarins Double Serum was there to energize my skin and make me glow. So naturally when I discovered Clarins had a serum specifically dedicated to tightening pores, I had to try it. My first reaction — wow, Clarins has done it again! Not only did my pores minimize their appearance, the formula also mattified my skin doing what they call a "blur effect" to further hide my pores. I've tried many pore minimizing products before with no results, but this product amazed me. I'm not saying I'll never try another pore product again. As I mentioned, trying skincare products is part of a personal journey so I'll always be open to trying new products, but with Clarins Pore Control my pores are no longer a concern for me.
Experience Clarins Pore Control
© PRODUCT PHOTOS COURTESY OF RETAILER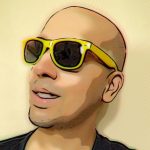 Having dedicated over a decade of his life to the psychology of scent, "the voice of fragrance" joined Pinappos with the express purpose of sharing his passion for perfume from a unique perspective. During this psychological journey, he has quietly built a reputation as one of the world's foremost fragrance connoisseurs.