All products and services on Pinappos are independently tested by our writers. Pinappos may earn a commission through links on our site.
It's an understatement to say the original 1 Million from Paco Rabanne changed the landscape of men's fragrances. Once dominated by 90s inspired day wear aquatics, 1 Million went in a decidedly different direction with an audacious, attention grabbing, and very sweet nightlife fragrance for men. One of the best fragrance openings ever with notes of mandarin and cinnamon blending to create the archetype of bubblegum scents for adults. If imitation is the sincerest form of flattery, then Paco Rabanne should be extremely flattered as since its launch there have been numerous imitators in the genre. Some were hits and many were misses. It should come as no surprise the hits were those that were clearly inspired by 1 Million, but took that inspiration in a unique direction, while the misses were those that tried to be 1 Million but somehow better.
It seems counterintuitive to even try.
That is unless you are the designer behind the iconic original. There have been numerous successful sequels in the 1 Million franchise, such as Parfum and Lucky taking cues from the original while exploring daring new directions. While both of those are stunning scents in their own right, the new 1 Million Elixir does something I've been wanting from 1 Million since the originals' release.

The best part of the original 1 Million hands down is the gorgeous, luxurious opening. It's the head-turner and the inspiration for all imitators that followed. While 1 Million is a great scent from the sweet opening to its leathery dry-down, the appearance of the leather overpowers all the other notes, hiding that stunning opening. By stripping away the leather note and adding a candied apple, 1 Million Elixir allows its wearer to enjoy the intricacies of the opening throughout the entirety of the scent. The sweet apple note lingers alongside vanilla absolute and tonka bean. Patchouli permeates throughout while roses sit on the periphery, producing a divine balance between sweet and sophisticated. While its lack of leather may be a deterrent for some, for me it's exactly what was needed for the new fragrance.
The original remains a classic, however, the new 1 Million Elixir by Paco Rabanne is the modern reboot that brings everything I love about the original while elevating it in the best ways possible.
© PRODUCT PHOTOS COURTESY OF RETAILER SITES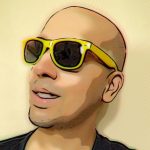 Having dedicated over a decade of his life to the psychology of scent, "the voice of fragrance" joined Pinappos with the express purpose of sharing his passion for perfume from a unique perspective. During this psychological journey, he has quietly built a reputation as one of the world's foremost fragrance connoisseurs.