At Pinappos we believe in trusting the science. Click here for information from the CDC.
Hello everybody. Miss me?

Yes, I know. It's been a while.

Maybe you've heard the saying, "We plan, God laughs."

That saying really came home to roost for me last week.

Months have gone by with me riding herd over the health and well being of not one, but two family members. It's been a whirlwind of almost three months of doctors visits, long days and nights in the hospital, a skilled nursing facility and just doctors offices where for some reason I was having to make multiple in person visits because I just could not get them to return a phone call. Still cannot get them to return a phone call.

At the same time, work had started to pick up. In case I hadn't told you before, in my (sorta) day job I work as a transplant tech for one of the largest hospitals in the state of Texas. My job frequently entails working lots of overnights, which has given me the flexibility to handle all of the other things that have been going on in my life, especially these last three months.

And then Covid hit me last week. The thing I hear about Covid mostly lately is that there are "those that have had Covid, and those that just haven't had it yet". I'm here to tell you that not only is that true, but it's also true that you can be fully vaccinated and still get it. Even for someone like me that never had a cold until he had kids that brought them home from school to share with me. Even for someone like me that literally hasn't been sick since 2010. You do the math. That's a pretty good run.

So here I sit…have been sitting, quarantined in a separate area of the house. 

Most of the things I was doing before are still going on. Some will wait for me. Some, I've been fortunate enough to have other family members that could pick up the slack. Some may not happen, but not because of no one to fill the void. Sometimes time, new data and clarity without the distraction of chaos just points you in a totally different direction. A direction you wouldn't have even dreamed of about a week ago or were just too tired to dream of just a week ago.

So over the course of the last week, I've gone through the bulk of shows that I had on my binge list and I'm sitting in the quiet dark of my quarantine area with an episode of Walker Texas Ranger (don't judge me) paused on the TV, and the quiet of that "clarity without the distraction of chaos" just hits me.

I feel like I am the most rested I've been in months maybe even a year. Maybe it's the mid morning nap, or the late afternoon nap, or the early evening nap, or the late evening before I go to bed nap. Sometimes known as my nap between episodes of Boba Fett or Peacemaker. You have no idea how many naps I've been taking and oh the plethora of names I've given them. All of them just as glorious as the one just previous and the one just after it.

And in the back of my mind, I can almost hear God laughing…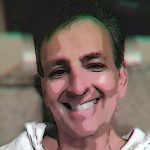 Freelance writer, satirist, wordsmith, air frying adventurer, and the right person to know if there's a zombie apocalypse.