Creed's Aventus has earned a reputation as the pineapple fragrance that all other pineapple fragrances follow.  
The blend of pineapple and birch is often lazily described as a smokey pineapple. A rushed description I've made myself before having smelled truly smokey scents.
This opens with a blast of juicy pineapple, making it most suitable for the hot summer seasons. A note of birch adds a hint of dirtiness. That's what's causing people to think they're getting a smokey texture. 
While the juiciness fades, it's still very distinctly a pineapple. Thanks to the juice fading, it lends Aventus to a greater wearability all year around. Plus, with the dirtiness lightly enveloping the pineapple, it plays well seasonally. That being said, a cold winter will likely get the weakest response.
Speaking of responses, Aventus is a compliment getter. Does that make it the greatest fragrance ever? Hardly. Despite regularly getting the moniker as the GOAT of fragrances, that's more or less an overstatement, as this is a pretty linear, boring scent.
That's not to say it's not good, but that's really all it is — good. For such a high priced fragrance, there are a lot more cheaper, complex, and interesting fragrances out there that garner compliments as well. 
Solid pineapple scent. Good overall scent. 
Scent Profile: dirty pineapple.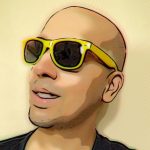 Having dedicated over a decade of his life to the psychology of scent, "the voice of fragrance" joined Pinappos with the express purpose of sharing his passion for perfume from a unique perspective. During this psychological journey, he has quietly built a reputation as one of the world's foremost fragrance connoisseurs.