As a fragrance collector, the scent itself is obviously the most important factor, but the bottle design also plays a major role. A perfume bottle should either look confidently classy or it should scream for attention. In the case of Carolina Herrera's Good Girl, it does both exceptionally well. Good Girl's stiletto heel bottle is a sleek and sexy design that never fails to draw excitement when my guests see it.
Still, the most important factor of any perfume is the scent itself and much like its bottle design — Good Girl's scent is a stunner. Opening up like blueberries covered in chocolate powder, Good Girl is a fragrance that will take you on a journey. As the hours pass, the blueberry essence subsides to the background making way for a creamy combination of almonds, cacao, vanilla, praline, tonka, and tuberose. All those notes blend effortlessly together forming a truly delectable treat. The tuberose keeps this from being a true gourmand, creating a careful balancing act between sweet lotion and delicious dessert.
Carolina Herrera's Good Girl is an elegant seductive scent housed in an elegant seductive bottle.
Scent profile: almond lotion blended with chocolate powder.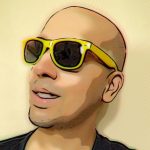 Having dedicated over a decade of his life to the psychology of scent, "the voice of fragrance" joined Pinappos with the express purpose of sharing his passion for perfume from a unique perspective. During this psychological journey, he has quietly built a reputation as one of the world's foremost fragrance connoisseurs.