The fragrant essence of New Orleans' most famous drink, the mint julep, is here. Luckily for all of us, it's available in scent form thanks to perfume house Imaginary Authors. I've always been keen on scents in the food and drink realm, so Saint Julep is right up my alley.
This delightfully fresh fragrance has a splash of bourbon with notes of sugar and mint leading the blend. It's a subtle sweet concoction that gets me weird looks because I can't stop sniffing myself. That's ok, it's worth it.
This perfume really surprises me, because even though it's not bold or complex, and it's not really a big attention-getter, it's really, really good. I find myself reaching for this one a lot. I crave Saint Julep often and when I'm not craving anything in particular, I don't hesitate to reach for Saint Julep.
Of all the Imaginary Authors perfumes I own, I probably wear this one the most. In fact, I've worn this fragrance so often it made our inaugural list of 27 Favorite Things!
It's a really great subtle scent that works especially well in warmer temperatures.
Scent Profile: a mint julep.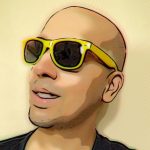 Having dedicated over a decade of his life to the psychology of scent, "the voice of fragrance" joined Pinappos with the express purpose of sharing his passion for perfume from a unique perspective. During this psychological journey, he has quietly built a reputation as one of the world's foremost fragrance connoisseurs.