Product was received for review, however, Pinappos' writers independently test all products to provide an honest assessment based on their own experience. Pinappos may earn a commission through links on our site.
Bronzers and I are complicated. It's so hard to find a shade that's just right. It's either too gray, too pigmented, not buildable enough, too shimmery, or drying (as you can see I might be kind of picky about bronzers). So, when I find a bronzer I actually like, well consider that a rarity. Truly, the only bronzer I've ever really liked is Benefit Cosmetics Hoola. And this one blew Hoola right out of the water.
What impressed me the very most about this particular bronzer was how silky it was. It did not feel like powder going on my skin. It glides on so smoothly and leaves you with a silky-smooth finish. I absolutely loved how it felt. That and it also seemed to hide my pores — big bonus. The formula was very buildable, so you can apply it lightly for a lighter glow, or you can build up to a golden goddess with ease. This bronzer gives you more control to do what you want with it. It wears very well throughout the day and didn't fade or slide off my skin. It looked just as perfect at the end of the day as it did when I first put it on.
The color Terra is an absolute dream shade. It gives off a PERFECT sunkissed glow. As if I just spent the day at the beach. I put it on all the areas where the sun would naturally color my skin — instant perfection.
This bronzer is not cheap, but it is literally the best there is out there. I gave up bronzers for almost a year and here I am, once again a diehard fan. Thank you, Tom Ford!!
Purchase Tom Ford's Soleil Glow Bronzer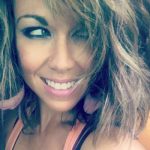 Former barista, current badass, when she's not introducing you to secret coffee recipes that are so secret they're not even on the menu, she's on the hunt for amazing products!