All products and services on Pinappos are independently tested by our writers. Pinappos may earn a commission through links on our site.
Team Pinappos is always searching for amazing new products. This article is part of a series where we share with you the discoveries that excite us, the products we cannot wait to talk about. These are our favorite finds.
I've never purchased a facial mask that cost over $100. Maybe, $50. Which is one of the reasons I was so curious about the Fresh Crème Ancienne Ultimate Nourishing Honey Mask. What made this mask so special? I've read reviews and seen good things, but then I read the ingredients. Now I'm intrigued! I've always read that honey has mad benefits for your skin, but the thought of rubbing sticky honey on my face made me cringe.

Please mask, don't be sticky…

The formula, inspired by monks, claims to be ultra nourishing, improves elasticity, and helps your skin recover from environmental stress. It contains honey (obviously), echinacea extract, meadowfoam, seabuckthorn oil and other nourishing ingredients that would benefit your skin.
Onto the fun part. First off I want to note the packaging. The jar just FEELS expensive. It's heavy and comes with a mask spoon, so you never have to dip your fingers into the jar, contaminating the product. At first glance when opening the jar, this looks like caramel. Once I got the product on my face though — wow. It literally just melted into my skin and smells so deliciously sweet I wanted to lick the mask right off my face. I followed the directions, leaving the product on my face for about ten minutes and then rinsing off with warm water. Just as it melted on my face, it seemed to melt right off, but left a film of deliciously sweet moisture behind, and made my skin feel a bit plumper. Even 24 hours later I can still feel the benefits of this mask, something I can say I've never experienced with another mask. So first impression — I'm a fan. I would bathe in this stuff if I could afford to do so! I look forward to seeing what the benefits are over time and how it holds up to the crisp fall air! Only time will tell.
Until next time, the hunt is on!

Purchase Crème Ancienne Honey Mask
© PRODUCT PHOTOS COURTESY OF RETAILER SITES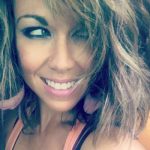 Former barista, current badass, when she's not introducing you to secret coffee recipes that are so secret they're not even on the menu, she's on the hunt for amazing products!