All products and services on Pinappos are independently tested by our writers. Pinappos may earn a commission through links on our site.
Team Pinappos is always searching for amazing new products. This article is part of a series where we share with you the discoveries that excite us, the products we cannot wait to talk about. These are our favorite finds.
Like many women I know, I have strong opinions about mascara. I am a die hard fan of about 3-5 different mascaras, and the others just don't compare. I'm super excited to announce that I found one of those very special mascaras while testing out Milk Makeup's KUSH High Volumizing Mascara.
This mascara is made with cannabis seed oil, which has a plethora of health benefits to condition those lashes. You can smell the oil when you first crack open the bottle, which by the way is fancy in its own right. Testing out this product was a journey. At first I wasn't sure what to think. I felt at the beginning, the brush picked up too much product, and I had to wipe off extra product to make the mascara workable on my lashes. After about a week (yes, there's a sweet spot for this mascara) this no longer happened and Oh. My. God. — KUSH mascara turned out to be one of those I cannot live without.
The formula is jet black, volumizes beautifully, and I swear curls and lifts every single lash. Once it dries, your lashes still feel soft, and stays put. It lasts through 16 mile runs, through weight training and allergies, and produced zero flakes. Zero! I just recently ordered another bottle of this amazing mascara, because I never want to be out again! So happy to find another holy grail mascara, and is now in my top three favorites!

You won't be sorry to try this one out!!! Milk Makeup –you've got my attention with this one!
Until next time, the hunt is on!

Purchase Milk Makeup KUSH High Volumizing Mascara
© PRODUCT PHOTOS COURTESY OF RETAILER SITES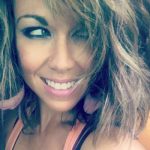 Former barista, current badass, when she's not introducing you to secret coffee recipes that are so secret they're not even on the menu, she's on the hunt for amazing products!