Sample was provided for review, however, Pinappos' writers independently test all products to provide an honest assessment based on their own experience. Pinappos may earn a commission through links on our site.
Nothing pairs better with your pumpkin spice latte than the perfect fall manicure! I have been on the hunt for a perfect manicure system, and had a chance to try Dazzle Dry, who claims that their lacquer system dries worry-free in 5 minutes, last 7 days, is environmentally sound, AND promotes healthy nails…does this sound too good to be true? I sure thought it did. I heard my inner voice say "Challenge accepted", and tried out their whole system in their Desert Flame collection (which btw has the most PERFECT color combo.)
Now to achieve the full 7 days of chip-free nails, you need the full system, which consists of 5 steps — a nail prep, base coat, lacquer, topcoat, and revive. It sounds like a lot, but each step dries down SUPER quickly, which makes it more time manageable, and makes the whole process feel a bit more luxurious. I was surprised at how quickly I achieved a full manicure, and even more surprised as the week went on at how well they held up over time. For the record, I am NOT easy on my hands. I am a single mom, who does her own dishes, scrubs her own kitchen, kickboxes — there are a lot of activities in my week that can potentially wreak havoc on a perfectly good manicure. Now I won't say that my nails were 100% chip-free, there was a bit of wear and tear that I would notice after about day 5, but quite honestly, I don't think anyone else would notice. I quickly fell in love with this brand, and its whole system and philosophy.
These nail polishes/nail system are a bit on the pricier side — the mini system kits price out at around $38, and a full system with one polish is around $85. But when you think about what you'd spend on a monthly manicure, over time this is totally worth the cost for many quick manicures that will last for over a week! I will certainly be ordering more colors in the future (I have my eye on the color Aztec Blue). I PROMISE you will not be disappointed in this kit!
Purchase Dazzle Dry Collection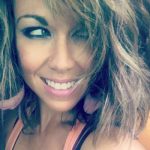 Former barista, current badass, when she's not introducing you to secret coffee recipes that are so secret they're not even on the menu, she's on the hunt for amazing products!