All products and services on Pinappos are independently tested by our writers. Pinappos may earn a commission through links on our site.
Cartier's L'Envol Eau de Parfum is like a dream within a dream. Not only is the scent like a magical fantasy, but the liquid itself is housed in a mesmerizing floating glass design.

The first spray is powerfully sweet and while it doesn't smell as heavy as the honey you drizzle on your morning toast, it's unmistakably the delectable treat. Sweet but luminous, it floats around effortlessly in an airy cloud of light musk.

While the powerful sweetness fades, it never disappears, making this long lasting fragrance an absolute delight to wear. L'Envol Eau de Parfum doesn't call for attention — it doesn't need to nor want to. This is a comfort scent. That said, as long as I'm near this glorious scent, I'm hypnotized by its wonder. There's not a lot of transformation or depth, but none of that takes away from this perfectly blended gem.

Scent Profile: an airy cloud of light honey.

Purchase L'Envol Eau de Parfum
© PRODUCT PHOTOS COURTESY OF RETAILER SITES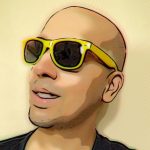 Having dedicated over a decade of his life to the psychology of scent, "the voice of fragrance" joined Pinappos with the express purpose of sharing his passion for perfume from a unique perspective. During this psychological journey, he has quietly built a reputation as one of the world's foremost fragrance connoisseurs.