All products and services on Pinappos are independently tested by our writers. Pinappos may earn a commission through links on our site.
I first discovered 18.21 Man Made during their early days when they were making a name for themselves in Texas. They have since grown leaps and bounds with products being sold worldwide. A combination of an amazing team plus amazing products has made them one of the most talked about independent brands in the beauty industry. Their latest product — Spiced Vanilla 3-in-1 Wash — is proof that the trio behind 18.21 Man Made have their finger on the pulse.

At $42 for the 32 oz (which is the really cool bottle pictured above), you're getting a truly luxurious product at a bargain. It's thick and lathery, with a scent that stays with you long after rinsing. The 3-in-1 combination of shampoo, conditioner, and body wash not only means you have pretty much everything covered but also it's a major space saver. That's important whether you have lots of products or not a lot of room. For me, since I review new fragrances everyday, I have to have room for my regularly used unscented body wash. It's a shame because the scent of 18.21 Man Made Spiced Vanilla Wash is wonderfully addictive.

Spiced Vanilla smells exactly as the name implies — vanilla layered with spices. Yet, it's so much more than that. It's sweet but rugged and heavy with depth just like their original sweet tobacco. Speaking of which, all their products' scents are designed to complement each other. Wash with Spiced Vanilla then spray on Sweet Tobacco Spirits to create a new dimension to the scent. If 18.21 Man Made were to make a new cologne, I'd personally like to see them explore more spirits. However, should they choose to go with Spiced Vanilla, I'd be first in line for a bottle.
I can't always use scented body washes, but I'll always have 18.21 Man Made Spiced Vanilla Wash. It's that good.

Purchase 18.21 Man Made Spiced Vanilla Wash
© PRODUCT PHOTOS COURTESY OF RETAILER SITES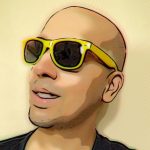 Having dedicated over a decade of his life to the psychology of scent, "the voice of fragrance" joined Pinappos with the express purpose of sharing his passion for perfume from a unique perspective. During this psychological journey, he has quietly built a reputation as one of the world's foremost fragrance connoisseurs.