All products and services on Pinappos are independently tested by our writers. Pinappos may earn a commission through links on our site.
After years of building a franchise out of Good Girl, Carolina Herrera has finally created a spin-off for the male counterpart — Bad Boy. To be clear, despite fragrance names and marketing, there's no such thing as men's and women's fragrances. You wear the fragrance you want, because you love it. That's all there is to it. I love the creamy almond lotion with chocolate accord of the Good Girl line. In my opinion they are some of the sexiest perfumes I wear. That stiletto heel style bottle makes me love the franchise even more. With the men's spin-off fragrance contained in an almost equally as cool lightning bolt bottle plus my love for Carolina Herrera's Good Girl, my anticipation for Bad Boy was high!
Bad Boy opens with a fresh spicy, lime and chocolate blend. The spice is heavy, while a subtle note of lime creates a slight body wash vibe. Meanwhile, the chocolate lends itself to a mysterious charm. It's fresh and clean in a strange way. As time passes, the lime holds still but spice becomes even more pronounced almost completely overtaking the fragrance. Something interesting happens with the chocolate here. It almost completely fades away, making you believe it was in the opening scene for only a small guest role. Then as the scent reaches its climax, the chocolate returns rich and creamy — right in the mix with the spices. It's a stunningly sexy concoction that's ready to blow my mind when suddenly the spices once again overcome. The chocolate fades to the background, before once again making its triumphant return. This seesaw of fresh spices blended with then without the magnetic chocolate note continues through the duration of the scent.

The balancing act between strange fresh and freshly addictive feels like a mad scientist created a Frankenscent in their lab. The lightning bolt brought something amazing to life and yet the monster still comes out. Carolina Herrera's Bad Boy is a complicated fragrance. When the chocolate is present, it's gorgeous! When it's not, it's a strange ball of spice. In my mind, the gorgeous part makes Bad Boy worth wearing once in awhile.
I definitely hope they continue with sequels to this spin-off series. If that luxurious chocolate note shares the spotlight with the spice, Carolina Herrera will have another winner. While I'm on the topic of this growing franchise, I encourage Carolina Herrera to explore variations on the names such as Good Boy and Bad Girl. I know they don't have the same ring to it as the current alliterative versions do, but for equality's sake and in curiosity of the scent possibilities, I think these are titles worth exploring.

Scent Profile: spice, spice, spice, lime, spice, spice, spice, chocolate, spice, chocolate, spice, chocolate, spice.

© PRODUCT PHOTOS COURTESY OF RETAILER SITES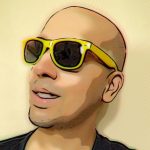 Having dedicated over a decade of his life to the psychology of scent, "the voice of fragrance" joined Pinappos with the express purpose of sharing his passion for perfume from a unique perspective. During this psychological journey, he has quietly built a reputation as one of the world's foremost fragrance connoisseurs.