All products and services on Pinappos are independently tested by our writers. Pinappos may earn a commission through links on our site.
One of my favorite tropical fragrances of all time is the now (as of this writing) discontinued Sunset Heat by Escada. So when I got the opportunity to try Escada's Miami Blossom — their pineapple focused tropical fragrance — I was very excited. If anyone knows tropical scents, it's Escada.
Miami Blossom opens smelling like a burst of juicy, sweet, and vibrant fruits highlighted by golden pineapples all while surrounded by a garden of tropical flowers. This is a fruity-floral fragrance clearly designed with a tropical vacation or a tropical mood in mind. When that dream vacation opening dries down, the juiciness fades in favor of airy nuances that add a feeling of relaxed comfort to the scent. It's then that the pineapple note fades to the background, no longer the star of the show. The flowers bloom and the sweet essence of fruit floats through the air.

For anyone seeking to grow a tropical scent collection, Escada's Miami Blossom belongs in it. Or if you just want to vibe with that tropical mood any time of the year, you can't go wrong with this perfume as your tropical signature.

Scent Profile: sweet and airy fruits and a bouquet of tropical flowers covering a tray of pineapples.
© PRODUCT PHOTOS COURTESY OF RETAILER SITES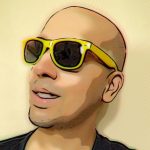 Having dedicated over a decade of his life to the psychology of scent, "the voice of fragrance" joined Pinappos with the express purpose of sharing his passion for perfume from a unique perspective. During this psychological journey, he has quietly built a reputation as one of the world's foremost fragrance connoisseurs.