All products and services on Pinappos are independently tested by our writers. Pinappos may earn a commission through links on our site.
When the original Dior Homme launched, it completely altered the perception of what a fragrance could be. A depth defying, challenging fragrance, Dior Homme Original, unfolded layers upon layers of curiosity. The blend of powdery chocolate with creamy vanilla and raw leather — not to mention a waxy iris forming an airy makeup accord — made for an artistic masterpiece. Dior Homme Original, more than any of their other fragrances, put all future Dior perfumes on the must try list. For that reason it should come as no surprise that Dior has opted to remake their most iconic fragrance with this 2020 release.
Dior Homme opens with just a hint of that smooth, fresh floral opening of Dior Homme Original. The slightest essence of iris flirts with your senses. But this is not Dior Homme Original. We need to get that out of your mind right away. Just as I thought I was about to explore a new take on the original, the opening quickly faded like a whisper and in its place a smooth, blue accord glided in. This is a sophisticated scent. As time goes on, a very light lime-like citrus peaks in to add its own playful charm. The smoothness turns silky, while the sophistication takes a step into sensual territory. It is a cool flirtatious charm rather than sexual seduction.
The scent is very similar to Bleu de Chanel, except while the Chanel scent gives off more of an attention seeking vibe, Dior Homme exhibits quiet confidence. Plus Dior Homme's bottle looks stunningly gorgeous.
If Dior Homme Original is the art house production, then 2020's Dior Homme is the mainstream remake with only remnants of the original. That's not a bad thing, it's just a different thing. In fact, I believe Dior Homme to be a far more wearable scent. In my review for Dior Homme Original, I called it a journey fragrance, because it was a complex scent with a long challenging road before arriving to the best part. On the other hand, Dior Homme is instant appeal and suitable for all aspects of life.
Dior Homme is a solid choice when I need a scent I can count on.
Scent Profile: smooth, silky, blue musk with a very slight citrus lime.
© PRODUCT PHOTOS COURTESY OF RETAILER SITES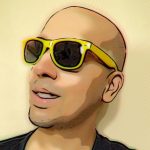 Having dedicated over a decade of his life to the psychology of scent, "the voice of fragrance" joined Pinappos with the express purpose of sharing his passion for perfume from a unique perspective. During this psychological journey, he has quietly built a reputation as one of the world's foremost fragrance connoisseurs.