All products and services on Pinappos are independently tested by our writers. Pinappos may earn a commission through links on our site.
One of the most successful fragrance franchises in recent memory is the Dior Sauvage line. Launching in 2015, the original Sauvage was compared to the likes of Chanel and Versace, but despite those comparisons it was a wholly new experience. An intensely bright non-specific sharp green citrus combined with a fresh plastic accord. Yes, plastic. Housed in a heavy, luxurious bottle — it felt like a scent for special occasions. In 2017, its sequel Sauvage Cool Spray arrived in a lightweight body, body spray like bottle making it slightly greener and a lot more accessible. In 2018 the EdP would arrive once again exploring the original experience. But it wasn't until 2019 when Sauvage Parfum was released that Dior achieved perfection. The Parfum blended the notes more evenly, amping up the musk, and removing the sharp bite in favor of a smooth, well-rounded, inviting accord.
Where does a series go after it has achieved perfection? In the case of Dior Sauvage, rather than creating a direct sequel, Dior opted to explore a new realm with a spinoff of the original favorite.

Dior Sauvage Elixir opens with only the faintest hint of the green citrus DNA of the previous Sauvage experiences. It's a brief reminder of what once was that is immediately overtaken by an intoxicating explosion of spices — cinnamon and nutmeg layered over lavender. This is an exciting departure from a franchise that has stayed in one lane since its launch. Not only a departure from its own franchise, but a departure from what most other fragrances have been doing for over a decade now.
Despite the hints of the original, Sauvage Elixir nothing like the previous iterations. If you liked those, it doesn't necessarily mean you'll like this. You'll definitely want to try it before you buy it. Elixir is a completely different animal. Truly a beast of a fragrance, but make no mistake about it — Sauvage Elixir is both the beauty and the beast.
© PRODUCT PHOTOS COURTESY OF RETAILER SITES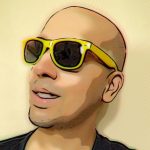 Having dedicated over a decade of his life to the psychology of scent, "the voice of fragrance" joined Pinappos with the express purpose of sharing his passion for perfume from a unique perspective. During this psychological journey, he has quietly built a reputation as one of the world's foremost fragrance connoisseurs.