In 2016, I met with Neon Hitch to interview her about life and her then soon to launch debut album. That interview was published for a music site that has since shut down. For the benefit of Neon Hitch, her fans, and Pinappos readers, I've republished it here — edited with an updated perspective and the addition of brand new, never before shared content. So even if you've read the original article, this is worth reading.
In 2010, Neon Hitch signed with Warner Bros. Records in what could have been a career-making moment. Two years later, she was featured in Gym Class Heroes' chart topping hit "Ass Back Home." With her uniquely authentic voice, she seemed poised to become an international superstar. But life had other plans and despite the release of critically and fan acclaimed singles, mixtapes, and EPs, Warner Bros. failed to capitalize on Neon's talent. Six years after signing, Neon Hitch found freedom from the shackles of a major record label and finally debuted her highly anticipated first album Anarchy.
Anarchy isn't simply a catchy name she tacked onto her album, it's a defining aspect of her life. Something that I learned quickly when I met with Neon Hitch in LA on a scorching hot day in the summer of 2016.
Her phone died. And considering the only picture she had seen of me was a small Twitter profile pic, finding me in a market she and hundreds of locals frequented would be no easy task for her. Neon, not one to let a little chaos throw off her day, was able to get her hands on a friend's phone to email me letting me know I would find her wearing a tutu. I entered Melrose Trading Post, the most famous LA Flea Market and one of Neon's favorite spots when she lived in California, asking people if they've seen someone wearing a tutu. Almost anywhere else, I'm convinced people would have been able to point her out. But this was LA, one of the most fashion forward cities in the world and everyone was pointing me in a different direction. I decided I would have to stop asking people and start searching on my own. Even though I was wading through a sea of LA fashion originality, I was able to spot the singing sensation, shining as bright as her name. I walked toward her and before I could even introduce myself she excitedly called out my name, "Jason!" The day barely even started and anarchy had already set in, but maybe anarchy didn't have to be the disarray I thought it was. The anarchy wasn't over and I was about to find out that Neon understood something about anarchy we could all learn from.

We traversed the market set up with tents, selling everything from clothing, arts and crafts, to random personal photographs from random people. She was right at home there — having worked with such mainstream artists as the aforementioned Gym Class Heroes and 3OH!3, along with Busta Rhymes, B.o.B, and many more hasn't changed her. She's still very much the same gypsy girl who grew up on a bus. Only now instead of traveling the world entertaining with circus acts, she's inspired by her freedom and entertains with her music. According to Neon, "Anarchy was completely inspired by freedom. My way of life. Living is all freedom based." Like all the music she creates, her debut album was deeply personal. "I feel like this album is the most honest work that I've ever done," she explains, "And not intentionally, but because I just allowed myself to flow."

After taking a stroll down Melrose, browsing various shops, we stopped at one of Neon's favorite restaurants and I tried a dish she recommended that smelled a lot like meat even though it was vegetarian. She doesn't eat red meat, fried chicken is her meat of choice. Made even clearer by the song titled Fried Chicken @ Night on her debut album. However, based on how the day's events began, she took this slight bit of disorder in stride. She takes challenges head on and refuses to let it deter her. That's not her style.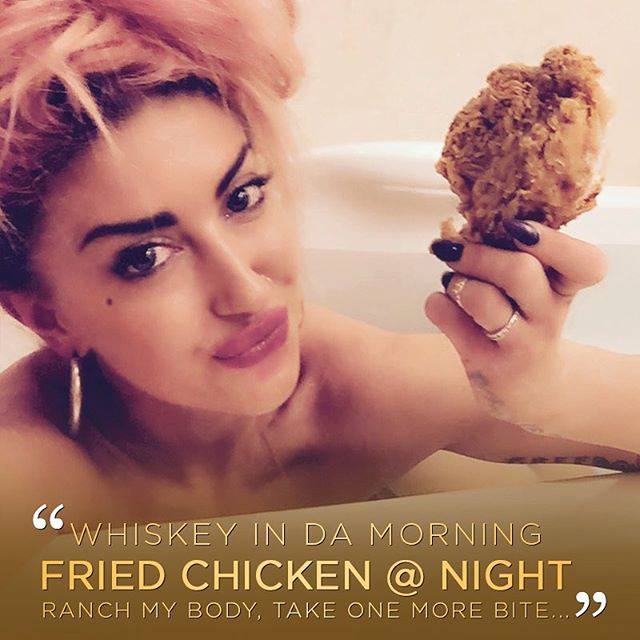 Her style is as uniquely representative of her life as it is her music. Her body is enriched with tattoos, each sharing more unique stories of her life. And she has many more stories to share, so after we left the market we headed down to Through Your Skin, the tattoo parlor where Neon had just a few days prior gotten a Coca-Cola tattoo.
On our walk there we started to talk about happiness. A year prior to meeting her, as part of a blog I used to have, I published a post about success. From the late great Tony Hsieh to Cornbread Hustle founder Cheri Garcia, and of course Neon Hitch — I asked people from all walks of life how they personally defined success. For Neon, she defined success as happiness. It's a cornerstone of her music, her passion, her life. She is keenly aware of the world around her. She's observant and opens herself up to it. She recognizes it can be a dark place and that she has the ability to brighten it up for a lot of people. The opportunity to create happiness is something she doesn't take for granted. It's something she cherishes. 

We arrived at the tattoo parlor and once we walked in she immediately started pitching tattoo artist "Awzer" Stephen Valdez on some new ideas she wanted adorned onto her skin. After talk of different fruits and "the Brazilian bombshell" Carmen Miranda, Neon knew with her album debut looming there was still a lot to be done and she needed a phone to do it. So we got a ride with Uber and headed off to the Apple store to get her phone fixed.
For some reason we thought everything would run smoothly from there, but anarchy had other plans for us. At the closing hours of the Apple store, it was swamped with so many people expressing their needs for help that their whole system was shut down and the next available appointment wouldn't be until three days later. With that Neon and I were ready to get out of there. As we stepped outside, I looked to my right and spotted a Sephora. Being that fragrance is such an important part of my life, I suggested that we take a detour just so I could show her a bit of my world. Earlier at lunch, I had told her about my passion for fragrances and asked her if she had a favorite. At one point she was really into Flowerbomb by Viktor&Rolf, but she started to get into more natural scents. I asked her about the possibility of someday making her own fragrance line and when I told her the possibilities, including unique notes that matched her lifestyle she was very much intrigued. Before you all get excited about a Neon Hitch perfume, I want to be clear, she didn't say it's definitely happening — just that the idea intrigued her. She is an artist after all and I think her artistic voice and vision would lend itself well to an artistic nose as well. After our quick detour to Sephora, we met with a friend of Neon's and headed back to the tattoo parlor to get started on her latest design.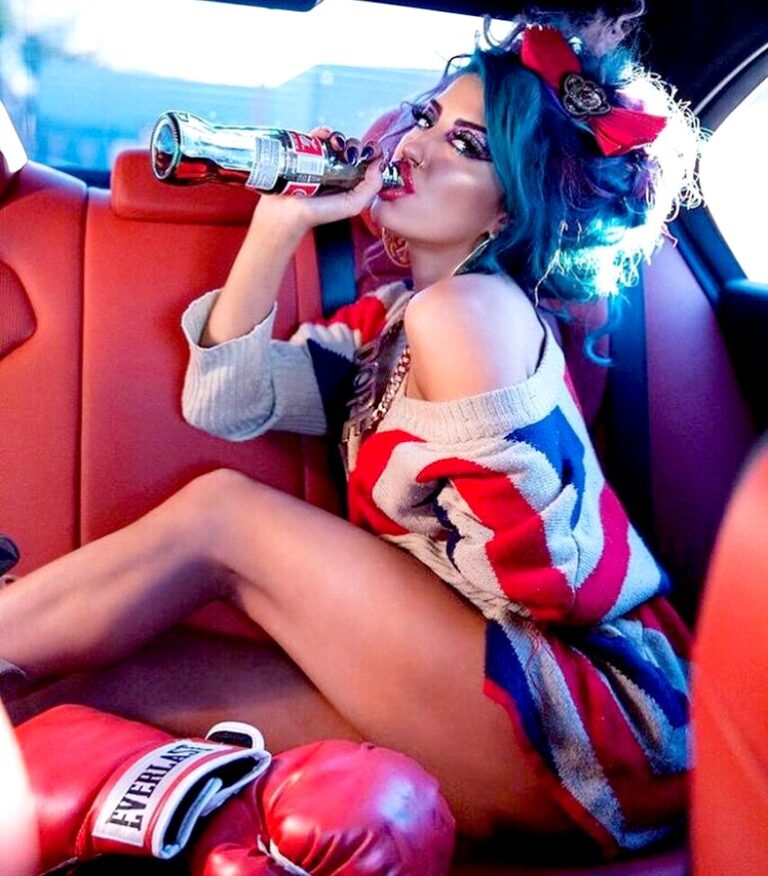 A day spent with Neon Hitch was like the best kind of road trip movie complete with nothing going as planned and as we arrived back at Through Your Skin, there was a moment that likely scarred me for life (a you had to be there moment we'll save for an actual movie) which Neon once again faced without skipping a beat — laughing at the shenanigans in front of our eyes.
I knew going in that this was never going to be an ordinary day, but I never would have expected a day where nothing went as planned and yet everything worked out perfectly. In the chaos of the day's events, Neon Hitch embraced the anarchy. "I do what I want, when I want," says Neon, "I can't control everything so I find freedom in the anarchy and live it."
The sun was setting, Neon still had a lot more to do and it was time for me to head home. As I awaited my ride, Neon and I started to talk about happiness again. Though Pinappos hadn't launched yet, I had known for a very long time that I wanted to create a happy place people could escape to. When I told Neon my early plans she was very excited about the idea and had one simple request — to invite her when the happy place was ready. (Here we are and here she is.)
Before I left, I opened up about a traumatic experience that happened to me in my early teens and she told me something profound. I forgot to hit the record button so I could quote her on it and she said it was ok, that piece of advice was intended solely for me. So I'm keeping it for me. But it changed my life. Her words helped to free me from a pain inflicted on me that was out of my control. I'm not the first person to say she changed my life and I won't be the last.
Neon Hitch embraces the anarchy. She recognizes that there's so much in life that is out of our control, that she chooses to embrace the feeling and through that — she finds freedom.
Experience: Anarchy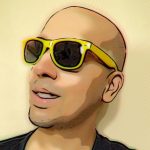 Having dedicated over a decade of his life to the psychology of scent, "the voice of fragrance" joined Pinappos with the express purpose of sharing his passion for perfume from a unique perspective. During this psychological journey, he has quietly built a reputation as one of the world's foremost fragrance connoisseurs.