All products and services on Pinappos are independently tested by our writers. Pinappos may earn a commission through links on our site.
I'm picky about fragrance. For real. When I'm rating fragrances I rarely would give one a five star rating. The thing I seek out the most in a fragrance, for me personally, is depth. And depth is not lacking in Gucci Flora Gorgeous Gardenia. Admittedly, I wasn't sure what to think about this fragrance at first. Right at first spritz it is a powerful floral, but as it melts into your skin, the deeper down the fragrance rabbit hole it seems to go.
Yes, it's still floral. But it sinks in to a gooey brown sugary sweetness that makes you feel so warm and cozy. Like you're sitting in a flower garden on a fall day in a cozy sweater.In comes the next layer, which is the layer that won my heart — the patchouli base.
I'm a sucker for patchouli. The patchouli mixed with the brown sugar and the florals made me totally fall in love. It brings a punch of mystery and darkness to an otherwise light and airy scent, which is irresistible and so enticing to me. This is exactly the type of scent that I crave, and would make as a potential signature scent for anyone seeking a gorgeous floral fragrance with depth. All in all, I think I'd have to declare this my favorite fragrance by Gucci, and a 5 star rating coming from me. Now excuse me while I bury my head in this fragrance.
Until next time, the hunt is on!

Experience Gucci Flora Gorgeous Gardenia EdP

© PRODUCT PHOTOS COURTESY OF RETAILER SITES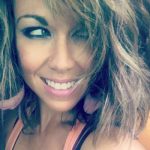 Former barista, current badass, when she's not introducing you to secret coffee recipes that are so secret they're not even on the menu, she's on the hunt for amazing products!