All products and services on Pinappos are independently tested by our writers. Pinappos may earn a commission through links on our site.
The original Acqua di Gio by Giorgio Armani is arguably the most popular fragrance of all time. So much so that this best-selling fragrance is still inspiring new fragrance creations to this day. A big feat considering it was launched in 1996. With this much love, it should come as no surprise that Armani would expand the line with it's own Acqua di Gio sequels. Acqua di Gio Profondo, the 2020 sequel scent housed in a frosty blue bottle introduces the franchise to a something familiar with a sea of something new.
While Acqua di Gio was inspired by the Sicilian island paradise of Pantelleria, Profondo chose instead to dive deep into the ocean surrounding paradise. With the initial spray the smooth, tropical aquatic/citrus DNA of the original is apparent. Moments later a wave washes over it with an unmistakably blue salty oceanic accord.

Acqua di Gio Profondo is the natural evolution of a fragrance franchise that has spent so long exploring the exotic experience of life on an island paradise. It's unknown whether further sequels will dive deeper into the mysteries of the ocean, but what is known is the tropical ocean scent of Acqua di Gio Profondo is a sea I relish exploring.

Scent Profile: the blue salty sea just beyond a tropical island paradise.

Purchase Acqua di Gio Profondo
© PRODUCT PHOTOS COURTESY OF RETAILER SITES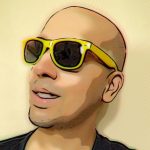 Having dedicated over a decade of his life to the psychology of scent, "the voice of fragrance" joined Pinappos with the express purpose of sharing his passion for perfume from a unique perspective. During this psychological journey, he has quietly built a reputation as one of the world's foremost fragrance connoisseurs.