All products and services on Pinappos are independently tested by our writers. Pinappos may earn a commission through links on our site.
With the launch of the Pinappos Book Club, I've been eager to wear a fragrance that could capture the scent essence of the book reading experience. If anyone has mastered capturing an experience, it's the REPLICA series from Maison Margiela. Once I discovered Whispers in the Library, I knew this was the fragrance I was looking for. From Jazz Club to By the Fireplace, I've obsessed over every fragrance in the REPLICA line that I've had the opportunity to smell. Coffee Break broke its way into my list of favorite coffee fragrances, while Beach Walk dethroned Tom Ford's Soleil Blanc as my go to beach scent. Maison Margiela knows how to capture an experience in a scent. While scent memories of a dusty library with old books and dirty paper doesn't sound very exciting — in a world where digital and audio books are my life — nostalgia hits different.
With the REPLICA line I expected nothing less than a magnificently replicated interpretation of its namesake experience. With Replica Whispers in the Library, I got nothing close to what I expected. Nothing from my nostalgic memories. Instead of smelling like the libraries of my memories, I smelled like the library of my dreams. A dark brooding waxy vanilla transformed me into the mysterious lead character of all the best adventure books. This is no simple, straight-forward adventure though. A sprinkle of pepper twists this story into a deeper and more complex direction.
As the saying goes — don't judge a book by its cover. Whispers in the Library didn't give me the nostalgic experience I was looking forward to, but instead a triumphant tour de force that surprised and excited my senses. Whispers in the Library is a "book" I look forward to experiencing over and over again.
Scent Profile: dark waxy vanilla over a hint of pepper.

Purchase Whispers in the Library
© PRODUCT PHOTOS COURTESY OF RETAILER SITES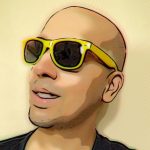 Having dedicated over a decade of his life to the psychology of scent, "the voice of fragrance" joined Pinappos with the express purpose of sharing his passion for perfume from a unique perspective. During this psychological journey, he has quietly built a reputation as one of the world's foremost fragrance connoisseurs.