1 Million by Paco Rabanne opens with an explosion of spices and a distinct scent of chewing gum. Yes, it's true — 1 Million smells like gum. There's cinnamon, amber, and rose, but you wouldn't know it because it blends to smell like gum. Once you get over the initial surprise of smelling like sweet and spicy gum, you'll find yourself enveloped by the smooth textured grandeur of luxurious leather.
It's a truly bold scent. Not like how it seems nearly every fragrance marketing campaign calls their new fragrance bold, rather a legitimately in your face, attention grabbing, statement making, bold fragrance. Its launch was a game changer. I don't say that lightly as it inspired a new genre of bubble gum scents. 
This Paco Rabanne scent is best suited for cooler nights and is very popular in the club. As a general rule, when you wear fragrances, wear something that embodies the personality you exude. Either you're wearing a fragrance or the fragrance will wear you. Remember this or risk losing yourself in a sea of scents that overpower you. The sense of smell is our most powerful sense and can create scent memories that last a lifetime. 
A genre defining scent, Paco Rabanne's 1 Million is a bold and unapologetically in your face fragrance. Wear it wisely or it will wear you.
Scent Profile: sweet and spicy gum soaked in luxurious leather.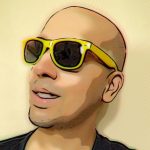 Having dedicated over a decade of his life to the psychology of scent, "the voice of fragrance" joined Pinappos with the express purpose of sharing his passion for perfume from a unique perspective. During this psychological journey, he has quietly built a reputation as one of the world's foremost fragrance connoisseurs.