On May 21st, Shawn Crenshaw will be premiering his short film Timeless with award winning director Bobby Huntley. It's not just any short film though, this is part of the launch of a Father's Day campaign for his timeless fragrance Ovation for Men.
This is a big deal for the fragrance industry. Perfume being part of an artistic industry has long dabbled in the cinematic experience, but I don't believe anyone has ever truly dove deep and told a complete story. This is why diversity and inclusion is so important to this and any industry. New perspectives brings in new ideas. As a Black perfumer, Shawn Crenshaw has not only introduced an incredible new scent to the industry but he's bringing in new ideas to the promotion of scent. It's been said by the top minds in marketing that the best way to promote a product/brand is to tell a story. Shawn Crenshaw's film Timeless does exactly that. It doesn't simply dabble in the cinematic experience it tells a complete and meaningful story. Something that to my knowledge has never been done before. And if it has, not in such a profound way that Crenshaw has done with Ovation for Men.
David Lynch, one of my personal favorite directors, has done commercials for Giorgio Armani and the formerly known Yves Saint Laurent. But David Lynch is best when he is madly in love with what he's working on. It's well-known that he's turned down major directing opportunities like Return of the Jedi and Fast Times at Ridgemont High because he knew he wasn't the right fit. So when it comes to Lynch's work on commercials he has publicly admitted he only does those for the money.
Chanel definitely likes to explore the cinematic experience. Notably "Le Film" directed by Baz Luhrmann and starring Nicole Kidman. It's no doubt a stunning cinematic experience, but despite its title this is more like a trailer than a complete short film.
Then there's Chanel No. 5's "The One That I Want" that did a slow rendition of the famous Grease song, but that's more of a music video than anything else. When it comes to music video commercials, nothing holds a candle to the Spike Jonze directed Kenzo World commerical.
That commercial is a perfect example of what can happen if you want to do something that hasn't been done before and actually commit to doing it right. Director Spike Jonze would go on to do a similar commercial for Apple HomePod.
Then of course there's this infamous Chanel No. 5 commercial starring Brad Pitt, that takes itself way too seriously for something that basically amounts to nothing.
For anyone who has ever been in a conversation with someone who has deep thoughts about something, but you have no idea what that thing is and what they're talking about — the experience is exactly like this.
There's clearly opportunity for something more in the fragrance industry, but when an industry is closed off to diversity, it also closes off the opportunity for more new ideas to break through.
Launched in 2016, Ovation for Men has turned heads all over the world. Shawn Crenshaw is ready to capture eyes all over the world as well. Timeless is a heartfelt, emotional, complete story. You don't want to miss it.
The premiere of the Ovation for Men short film TIMELESS and the subsequent disruption of the fragrance industry starts Friday, May 21st.
© PRODUCT PHOTOS COURTESY OF WRITER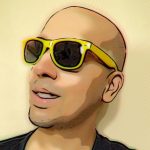 Having dedicated over a decade of his life to the psychology of scent, "the voice of fragrance" joined Pinappos with the express purpose of sharing his passion for perfume from a unique perspective. During this psychological journey, he has quietly built a reputation as one of the world's foremost fragrance connoisseurs.