All products and services on Pinappos are independently tested by our writers. Pinappos may earn a commission through links on our site.
The Prep-Set Tan by Iconic London is perfect for anti-sun/sunscreen worshipping folks like myself who still want to look like golden goddesses/gods during the summer months (without risk of wrinkles or anything else), or really any time I feel a bit lacking of color. I've tried many products like this in the past, but this, I tell you, is the best out there!!!
You can use this everywhere from your face to your body. Before you try this product, make sure you read the instructions. Once you spray and buff it on you won't want to wash or sweat it off for 4-8 hours, as it takes time for the pigments to activate and beautifully color your skin. I myself failed at it the first go around and didn't see much of a result, but on my second try once I FOLLOWED THE INSTRUCTIONS, I had the most amazing glow and ultimately the best results.
I tried this product in the Original, as I'm pretty fair-skinned as is, and felt it was the best fit for my complexion. The product itself is beautiful. Once you shake it to activate the product you see glitter swirling around the bottle – absolutely gorgeous! Spray the shaken product onto your clean skin and buff it in (they have the perfect buffing brush that goes with the product. So soft!). And when I say buff it in, I mean keep buffing! You want that to blend evenly!! And that's it! Apply your makeup (or not) and in 4-8 hours check out that glowing reflection in the mirror that should last 3 days to a week!
I say this is my favorite tanner for several reasons: 1) The glitter. Of course. 2) There is NO nasty tan smell. You all know what I'm talking about if you've tried tanner before. 3) It is soooo lightweight and doesn't clog your pores.
I honestly don't know how I'll ever live without this product again. And I think my daughter would say that too. Prep-Set Tan is now on her Christmas list this year!
Purchase Prep-Set Tan by Iconic London
© PRODUCT PHOTOS COURTESY OF RETAILER SITES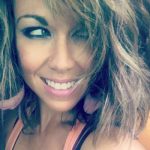 Former barista, current badass, when she's not introducing you to secret coffee recipes that are so secret they're not even on the menu, she's on the hunt for amazing products!