Recently, I had the opportunity to try out the Halo Collar, which I loved, but I understand not everyone has the luxury of spending serious cash like that on their beloved furry family members. Hence why I wanted to write about another great product that I got to try for a smaller price tag. This is the Link Smart Pet wearable. Frankly, it reminds me a lot of my Fitbit, but for dogs!! It is a GPS tracker designed to keep track of your pet's location and create peace of mind for dog owners in case they ever wander or get lost. But it is so much more than your average tracker! You can train with it using tone/vibration controls, it has a built-in flashlight for nighttime activities, you can monitor your pet's temperature, and much much more! There are also many accessories you can get with your Link as well!
I found that the GPS capabilities in the Link are very accurate. It provides real-time updates on the location of your dog, so you can find them quickly and get them to safety faster. I tried this out on my Yorkie, Bella, and although she never got lost while trying out her Link, I could track her location whether indoors or outdoors — which is handy because she likes to fit herself into tiny spaces where I can't find her. Always good to know she's STILL in the house even if I can't see her! I will say I wish they had a smaller version of the Link for smaller dogs. It was almost comical how big it was on her. But she handled it with grace during our tryout time!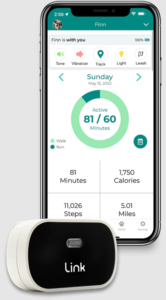 One thing I really enjoy about this device is the Health and Wellness aspect (being a health junkie myself). Not only can you track your dog's activities, but it also has a symptom analysis tool. You can see how many calories your dog burns a day, it has temperature alerts, and even records and reminds you of vet appointments! I loved using this when I had to go into the office to see what my dog was actually doing throughout the day when I wasn't at home. You can monitor your dog's activity to track just how much exercise (or how lazy they are), and just get to know your dog on a whole other level. I learned that Bella's daily walks are VERY valuable, as I noticed she wasn't super active while I was away. I also learned that her activity level would suddenly spike around the time our mail person stops by every day (typical Yorkie).
Although these devices are cheaper than the Halo collar, they still come at a cost. Each device costs around $149, and to access the GPS and activity features, you will need to pay for a service plan, which costs $12.99 per month (cheaper if you pay annually or every 2 years). But the capability of the Link is seriously impressive and can give you peace of mind that your cherished pup won't get lost while wearing it.
Purchase The Link Smart Pet Wearable
© PHOTOS COURTESY OF PRODUCT SITE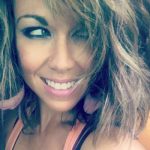 Former barista, current badass, when she's not introducing you to secret coffee recipes that are so secret they're not even on the menu, she's on the hunt for amazing products!