All products and services on Pinappos are independently tested by our writers. Pinappos may earn a commission through links on our site.
With the holidays just around the corner Kristen has got her Wolfe Hunt on with these must have gifts!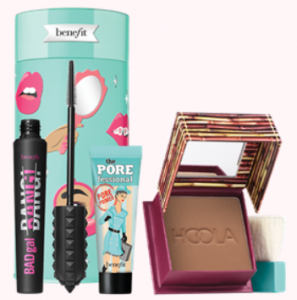 Benefit Cosmetics Holiday Collection
Any one of the Benefit Cosmetic Holiday sets are an amazing value. Each set is in a cute, vintage inspired tin, and the packaging of each product is super cute as well. There's a few thins I love that I'm going to share, but hurry, these are hot and going fast! As a mascara snob, I have a handful of favorites and the rest just don't compare. I'm now sharing my absolute FAVORITE — the best mascara in the land — Benefit Bad Gal Bang. The brush is flexible, grabs ALL your lashes and makes them POW. All without clumping, flaking, or stiff lashes. Do yourself a favor — get this, and thank me later. The Porefessional Primer is one of two primers that have actually blurred my huge pores, and did what you want a primer to do. Prime your skin for makeup. If you have oily skin like me this primer is a must! The renowned Hoola Matte Bronzer. I feel like everyone has tried this bronzer, and the fact that it's been a cherished staple for bronzers for as long as it's been around speaks for itself. This bronzer is very matte and never goes on streaky. Blending is effortless and just gives you a natural sun kissed look. California Kissin' ColorBalm is perfect for people like me that prefer a moisturizing balm versus a lipstick without having to sacrifice on color. The color is perfect, and I think would look amazing on anyone, with a very light refreshing scent! I've referred many husbands to this holiday collection to give to their wives. Ladies, you can thank me later. 

Shop the Benefit Cosmetics Holiday Collection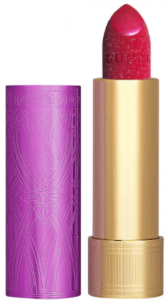 Gucci Rouge à Lèvres Lunaison Glitter Lipstick

I am beyond excited about this lipstick! First of all, I've never used a lipstick in this price range before. The typical lipsticks I've used in the past  have ranged anywhere between $6-$35. I honestly didn't believe that a lipstick more expensive could be much better than one I could get within that price range. This lipstick, priced at a whopping $46, better deliver, do my laundry, bake me a pie or all the above.  I received this lipstick in color 402 Vantine Fuchsia. The packaging itself is gorgeous, and looks expensive, flaunting Gucci's label on top of the tube. As soon as I took the top off I was instantly blown away with the color. It truly is a fuchsia, but looks like it's covered in a soft indigo colored pixie dust. Absolutely stunning right from the start. Next thought I had, okay, it's pretty. But I bet all that glitter is going to feel like sandpaper on my lips (much like other glitter lipsticks I've tried.) That was NOT at all the case with this one.  To my surprise, the lipstick glided on so smoothly, and once applied I was shocked and in awe of how beautiful this truly is. The formula is super pigmented, almost metallic and the glitter is out of this world. I wore this gorgeous lipstick all day long, and it did not dry my lips out, and it stayed literally all day long, almost seeming to stain my lips. This stuff is absolutely worth the price tag and I now wish I had every shade to try! This would be a perfect addition to everyone's holiday makeup wardrobe!
Purchase Gucci Glitter Lipstick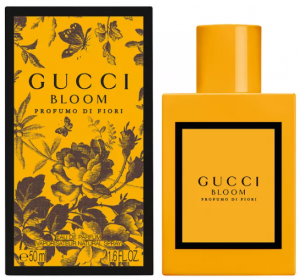 Gucci Bloom Profumo di Fiori by Gucci

This is for the sophisticated lady who likes a punch of floral that isn't too overpowering. Some florals can be too much in my opinion, but this isn't the case with this well-balanced fragrance. It's feminine, of course floral (I can pick out the gorgeous jasmine notes), but also contains deep and complex notes of sandalwood with a touch of sweetness. This is a floral for those who have a hard time loving florals. It's hits so perfectly on the nose. I could sniff this beautiful fragrance for hours!

Purchase Gucci Bloom Profumo di Fiori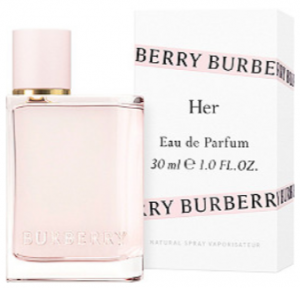 Burberry Her Eau de Parfum by Burberry

This fragrance is for all the gourmand fans out there. At first spray, it smells like a medley of sugared berries drizzled in caramel, and it's absolutely intoxicating. To me, this is a love. As it dries down, the fragrance evolves, you can still detect hints of berry, with deeper woody notes, cashmere and my favorite — patchouli. It's a more sophisticated resemblance of Viktor and Rolf's Bon Bon and to me, that is a massive compliment, as I adore that fragrance. The berry and patchouli really stuck out as the star notes of the fragrance. It's utterly beautiful and sophisticated, and now one of my favorites for 2020!

Purchase Burberry Her
© PRODUCT PHOTOS COURTESY OF RETAILER SITES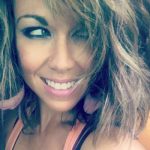 Former barista, current badass, when she's not introducing you to secret coffee recipes that are so secret they're not even on the menu, she's on the hunt for amazing products!