Product was received for review, however Pinappos' writers independently test all products to provide an honest assessment based on their own experience. Pinappos may earn a commission through links on our site.
Any fear of what the future of Tom Ford fragrances would be without Tom Ford himself at the helm can be put aside with the debut of Café Rose.
For rose lovers, this is a bouquet of roses. There's no room for shyness or reservation, as this is a confident bold rose. From opening to dry down, rose notes are front and center. Patchouli and a light sprinkle of cardamom help add texture to the rose, allowing for an expressive rose experience.
The fragrance opens light and airy, while at the same time thick and full of life, captivating the senses throughout the entire journey of the scent. Café Rose is unlike most fragrances I've smelled before. Something special happens in that I get something different every time I wear it. It's almost supernatural in that way. While most of the time I get the light airiness, sometimes I get dark sweetness. This dark sweetness can be attributed to a surprising note of dark coffee that is so delicate in how it blends with the rose that it takes on a life of its own and wafts in and out whenever it pleases. Often I think it's not there and then at once it appears like a thief in the night to alter my perception of the scent from beautiful bold confidence to sweet seduction.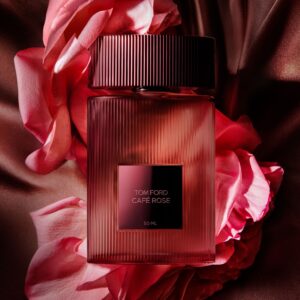 Fans of Tom Ford fragrances might recall the now discontinued Café Rose from the Private Blend line and wonder if this is the same scent. I compared the two side by side and the results were surprising. As I mentioned before, the new Café Rose introduces unique facets every time I wear it. That means sometimes they smell the same to me, sometimes they smell varied. While the original was equally as complex, it was straight-forward every time I put it on. On the other hand, the new Café Rose is magical in how it transforms on each wear. Still, their familial DNA is undeniable. If you loved the original, you will love this. They are both the same and different. Credit to the new Café Rose for offering this magical experience that deserves to be worn.
Scent Profile: Imagine taking a stroll in a quaint European village and stopping by a flower shop selling a variety of roses. As the smell of fresh roses fill the air, you notice just beyond is an ethereal aroma of coffee emanating from a café not far from the shop. That sums up Café Rose. It's not simply a scent you wear, but an experience that takes you to a magical place.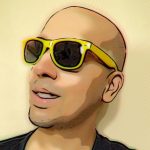 Having dedicated over a decade of his life to the psychology of scent, "the voice of fragrance" joined Pinappos with the express purpose of sharing his passion for perfume from a unique perspective. During this psychological journey, he has quietly built a reputation as one of the world's foremost fragrance connoisseurs.