All products and services on Pinappos are independently tested by our writers. Pinappos may earn a commission through links on our site.
Drink Responsibly.
One of the best parts about being a writer is the ability to work from anywhere. While that often means working from home (no complaints there), it also means working on the beach is a real possibility. Not everyday is a work on the beach kind of day, but every once in awhile I'll catch the right weather and the right vibes, and I'd just feel the sound of the crashing ocean waves tugging at my soul. Add to that, the awesome people at Kombucha Cocktails offering me the opportunity to try their new ready-to-drink cocktail and I knew the timing was just right.
Wearing a healthy dose of sunscreen plus the scent of Tom Ford's subtly sunkissed glowing honey scent Soleil Brûlant, I was ready to get to work. But first, I cracked open an ice cold can of Sunshine State from Kombucha Cocktails. [Note: Before we get into what Kombucha Cocktails is all about and my personal taste test, I should clarify that not all beaches allow for alcoholic beverages. Please do your research and make sure your drink of choice is allowed on your beach of choice.]
If there's one thing kombucha and ready-to-drink cocktails have in common, it's that they've both seemingly been on trend since they've become available to the public. For that reason, it makes perfect sense that a company would come along and mix the two. Ready-to-drink cocktails are popular for obvious reasons. I love to mix drinks, but the ease of having a good drink readily available can't be dismissed. But what about kombucha? What is it and what does it do? Kombucha is essentially a fermented tea. According to experts, it can help with digestion and rid your body of toxins among other things. By the way, that fermentation means there's a touch of alcohol already in it, making for an easy mix with the premium vodka of Kombucha Cocktails.
I received the Sunshine State flavor which is a mix of the aforementioned kombucha and premium vodka, as well as, mango, key lime, and other natural flavors. With 4.7% alcohol this is a smooth flavored drink with just the right amount of kick to enjoy myself on a relaxing day. I've had my share of ready-to-drink cocktails before, so I was a bit concerned that the kombucha would negatively influence the flavor, but it was nothing of the sort. In fact, it may have added something a bit unique to the experience. Next time I want a ready-to-drink cocktail, I have a feeling I'll be checking out Kombucha Cocktails.
© PRODUCT PHOTOS COURTESY OF RETAILER SITES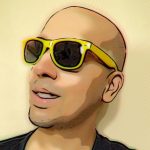 Having dedicated over a decade of his life to the psychology of scent, "the voice of fragrance" joined Pinappos with the express purpose of sharing his passion for perfume from a unique perspective. During this psychological journey, he has quietly built a reputation as one of the world's foremost fragrance connoisseurs.