Perfect by Marc Jacobs shows that Jacobs has a firm grasp on his signature directorial style. He shares the story he wants to tell and the perfumers artfully follow his vision.
Like Marvel movies, Marc Jacobs has discovered the basic foundation for the story he likes that results in repeated success by providing a careful balance of perfumed familiarity and originality. Perfect's use of a fruity-floral accord clearly takes place in the same universe as his other offerings, but its dynamic blend brings a unique spontaneity to the table.
Before I get into what Perfect smells like, it's important to note that there is a very specific protocol I developed for reviewing fragrances. I designed it to remove as much bias from the reviewing process as possible. Someday I'll discuss in detail what goes into the fragrance reviewing process, but for now I bring it up so you know the protocol insures I go into all reviews without a single clue as to what I'm reviewing. Only after my initial "scent only" review am I introduced to the other details of the fragrance. Details such as brand, perfumer, bottle design, etc. all can result in natural biases, even if unintentionally. So removing them is necessary to getting an honest review.
Marc Jacobs' Perfect opens with a stunningly glorious symphony of juicy citrus fruits and candy. Though a fragrance should never be judged solely by the opening, there's no denying Perfect's opening is enchantingly delicious. I get hints of candy banana straight out of Wonka's Runts. It's an unexpected twist that adds something wondrous to the character of Perfect. As time goes on, the juiciness fades away leaving behind the faint candy banana lingering in the background of a light and fresh floral bouquet.
The bottle design is one you want to show off. The charms on the cap show you're in for a playful discovery. I was pleasantly greeted by the banana charm on the cap, as well as, artistically drawn on the box. It's obvious that no detail is overlooked by Marc Jacobs.
While Perfect isn't a game changer, it's not intended to be. Marc Jacobs has discovered a signature style of perfume he enjoys and audiences enjoy as well. Thus he allows fans of this style to revel in a signature fragrance without always smelling exactly the same.
Scent Profile: Lightly fresh bouquet of flowers with a faint candy banana.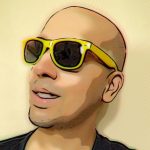 Having dedicated over a decade of his life to the psychology of scent, "the voice of fragrance" joined Pinappos with the express purpose of sharing his passion for perfume from a unique perspective. During this psychological journey, he has quietly built a reputation as one of the world's foremost fragrance connoisseurs.