All products and services on Pinappos are independently tested by our writers. Pinappos may earn a commission through links on our site.
Carolina Herrera's Good Girl Supreme took the formula so loved in the original Good Girl and added a playful spin to it. This is a sequel that understands what made the original so beloved and doesn't veer far. For some the variation may not be enough to warrant a new Good Girl, but I believe if you loved the original then you'll exploring this scent from a different perspective.
The first thing you notice is the gorgeous stiletto heel bottle design is back. This time with a splash of sparkles! So you know it's going to be a fun time. Then the spray. Good Girl Supreme opens with a blend of familiarity and something new. That smooth sensual creamy almond with a hint of chocolate is still present but this time the blueberries are replaced with a variety of berries. This bunch of berries stays strong till the very end when it slightly fades.

The blueberry opening of the original was the best part, so the perfumer adding a variety of berries and making its role more prominent was a brilliant decision. While the original Good Girl opted for elegant seduction, Supreme adds a fun and flirty dynamic to the experience. I believe there's room in the fragrance wardrobe for both. They're similar enough that if you love one you'll probably love the other. The variation is enough that they can express your mood in different ways. Finally, they complement each other in such a way that you can start your day with one scent, then later on when plans are going in a different direction spray on the other scent to set the mood for what's to come.

Scent Profile: almond lotion blended with berries drizzled with chocolate.
© PRODUCT PHOTOS COURTESY OF RETAILER SITES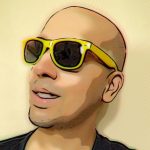 Having dedicated over a decade of his life to the psychology of scent, "the voice of fragrance" joined Pinappos with the express purpose of sharing his passion for perfume from a unique perspective. During this psychological journey, he has quietly built a reputation as one of the world's foremost fragrance connoisseurs.