All products and services on Pinappos are independently tested by our writers. Pinappos may earn a commission through links on our site.
For the first time in the history of Paco Rabanne, perfumers worked together with artificial intelligence to create a scent. Encased in a robot designed bottle, Phantom could quite possibly be the future of fragrance.
Upon first spray, I immediately got juicy tropical beach cocktail vibes. Not only that, everyone around me was wowed. In my years of fragrance reviewing, this is the first time I have ever received such a resounding excited response for how amazing a fragrance smelled moments after spraying it on. It's important to note that a fragrance should never be judged by its opening scent. The open can be magnificent, but unless it's a linear fragrance, typically the open is a fleeting experience as the scent transforms as it dries down. Wait a few hours after initial spray to give a fair judgment of a fragrance. In the case of Phantom, the open was absolutely mesmerizing but even as it transformed everyone around me remained hypnotized.
Sweet spices almost immediately made an appearance and only intensified as the hours went by. The tropical cocktail is still present but overlaid by the distinct spiciness that tantalizes the senses. It reminds me a lot of the delicious tamarind chili coated Mexican lollipop and I couldn't help but picture the beloved candy drenched in a juicy tropical cocktail. It's a deliciously strange image, yes, but this is deliciously strange fragrance. As of this writing, I've never experienced a fragrance quite like this. At one moment, a burst of tropical flavors bounces about, in the next the spices sprinkle back in. A passionate dance in which each partner takes turns taking the lead.
Everywhere I walked wearing this, my scent garnered intrigue and excitement. As of this writing, I've never experienced any other fragrance like this. That won't last long — because Phantom is Paco Rabanne, I expect this to lead to a trend of many other fragrance houses following in its enchanting footsteps. With successful new creation after successful new creation, Rabanne has established itself as a trendsetter in the fragrance industry. They've launched numerous franchises with successful sequels and numerous other brands sincerely flattering Rabanne with their artistic imitators.
When it comes to fragrances, I welcome sequels as long as they continue to explore the art of the original scent and what made them so good in the first place. If Paco Rabanne is going to release a sequel to 1 Million — that's cool. I'd like a version in a green bottle with an accord of paper money blended in. If Paco Rabanne is going to make a sequel to Invictus — I'm here for it. Invictus Aqua is a regular part of my summer fragrance rotation. Their previous trendsetting fragrances are fire for sure, but more than anything in the Paco Rabanne world, I want more Phantom. I want the stranger, deeper, more uniquely intense exploration of the Phantom universe. Phantom transcends the Paco Rabanne world. That's not to say this is the best fragrance ever made or even the best from Rabanne, what it means is Phantom smells so damn good in a uniquely fascinating, unexpected, surprising way. It takes what we know and love about so many fragrances, and twists it a new daring direction. Something I crave more of in my life.
Scent profile: Chili coated candy soaked in a tropical beach party cocktail taken at night on the planet Saturn. 🍹🌘🪐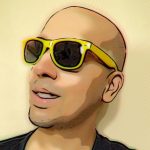 Having dedicated over a decade of his life to the psychology of scent, "the voice of fragrance" joined Pinappos with the express purpose of sharing his passion for perfume from a unique perspective. During this psychological journey, he has quietly built a reputation as one of the world's foremost fragrance connoisseurs.